6-MONTH LIVE GROUP PROGRAM WITH LAURA RIMMER TO LOOK & FEEL YOUR BEST

This is for you — the busy, ambitious person who is ready to get slim, healthy & energised so you can have higher levels of success, personal power & fulfillment in your work & life.
How would it feel in the next 90 days to…
Drop the excess weight that's preventing you from being your best at work and in your personal life.

Experience sustained physical and mental energy and stamina for high performance (without the need for caffeine and stimulants).

Get out of pain and experience healing.

Feel slim, light, comfortable in your own skin and confident in the attractive clothes you'd like to wear.

Know that your body is getting great nutrition, even when your working hours are long, irregular and involves a lot of travel.

Prevent burnout and adrenal fatigue, loss of voice, niggling colds and sore throats or more serious health issues with great nutrition and health habits.

Eliminate stress – feel calm and relaxed and on top if your game, even when the pressure (and spotlight) is on.

Have a clear, focused mind that's able to perform at higher levels without fogginess or distraction.

Have the energy to exercise, even when your schedule is demanding.

Have better relationships and higher earnings as a result of feeling more energised, empowered, productive and satisfied in your work.
It's ALL possible, with High Performance Health. I'll show you how!
Learning how to have #HighPerformanceHealth can take you from the edge of burnout & stuck with your weight & health to feeling lean, vibrant & powerfully in control of your life.

No more Type 2 Diabetes! Thanks Laura!
"I discovered, Laura and her book, 'The Alkaline 5 Diet'. Her story was very inspiring to me, and again the science in her book made sense to me. I had Type 2 Diabetes and previously, I had a lot of problems with acid reflux. I knew my body was too acidic and I popped antacids down like candy. I took Laura's coaching to get some help. Three months later, after having another blood test, my doctor called. I squealed with joy on the telephone as she read me the results of my HBA1C test. I had gone from a 7.1 to 4.9! No more Type 2 Diabetes! Thanks Laura!"
– ANNA SORRANO, OPERA SINGER,  SWITZERLAND
Hi! I'm Laura Rimmer…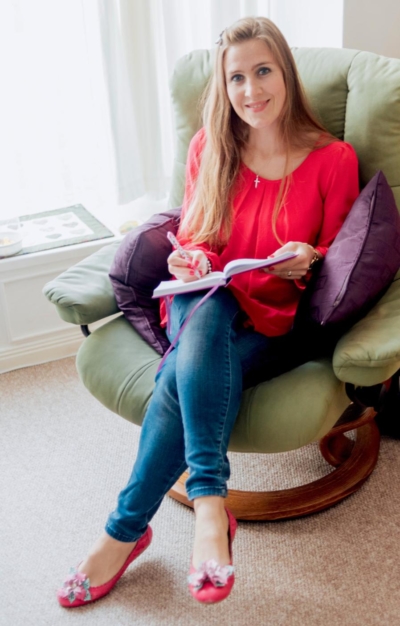 I created High Performance Health when I realised that so many entrepreneurs, coaches, speakers, singers and other busy people wanting the best in their work and personal life were struggling with bad diet and health habits, low energy, weight gain, or on the brink of burn-out or ill-health.
These people would try to look for answers in magazines promoting in-vogue diets and detoxes, or from health gurus such as Doctor Oz, Dr Phil or Dr Mercola…Or trying the latest exercise workouts from celebrity Youtube fitness instructors…Or by visiting their own 'trusted' doctor – only to be given pills and vague advice about eating a 'sensible diet' (whatever that means?). They weren't really getting the help they needed and I've studied this problem for over 17 years and found the solution!
I've seen both sides of the health equation – I worked as Medical Research Manager in the health service for years (where it was all about drugs and surgery – not prevention and cure) and I've also worked as a plant-based Nutritionist, health coach and studied under the world's top doctors who have spent years reversing disease in their patients with nutrition.
I wrote the acclaimed Hay-House published book 'The Alkaline 5 Diet' and have seen many, many people all over the world get slim, healthy and energised through my work since I set up my website in 2008.
When I began adopting the simple system I teach in High Performance Health, EVERYTHING  changed for the better. I went from overweight, tired smoker at university and burnt-out business owner who collapsed on my bathroom floor under stress early on in my career to 20lbs slimmer, youthfully vibrant, running marathons and ultra-marathons (hey you don't have to – but you'll want to do something with all your extra energy!). I feel happier, healthier, more productive and satisfied in my life and work than ever. I have a full and demanding life and career AND great health and a slim body.
That's why I created the High Performance Health coaching program – because you deserve better.
You may be wondering if this is possible for you.
I totally get it! That's EXACTLY why I've created a program for you that lays everything out, step-by-step, in a clear and simple format that you'll be able to follow to the letter. I've created a system that works to get you the health, body and joy you desire and I have a proven track record in doing this over and over again with busy people just like you. Sounds amazing, right?!
Introducing High Performance Health!
My Signature 90-Day LIVE Group Coaching Program! (+ 3 Months Extra Support)
High Performance Health is NOT just another course or program with a cookie-cutter approach and tons of theory and information that will overload you. Instead it gives you exactly what you need (and nothing more) to take powerful, tranformational action.
High Performance Health is a complete and motivational system that teaches everything I've implemented in my own life and with my 1-1 coaching clients over the past 10 years to get you slim, healthy and energised – to take your work and life to that next level of success.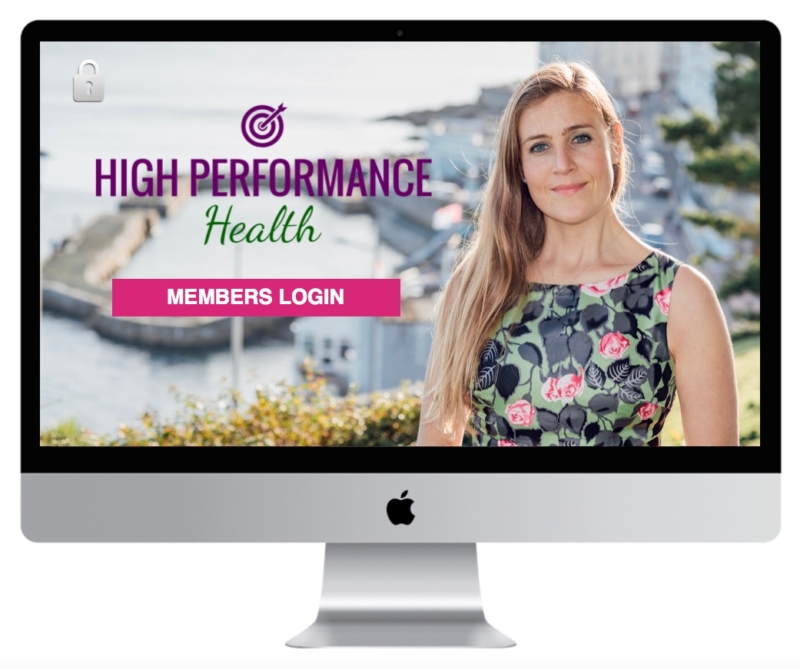 Is This Program Right For You?
Feel slim, light, comfortable in your own skin and confident in the attractive clothes you'd like to wear.

Set your weight loss goal, achieve it and sustain it – no more drama and yo-yoing.

Deep healing of your body, mind and spirit.

Creating a purposeful approach to your health and life with simple, measurable habits in place.

Increased energy (without the need for caffeine or sugary stimulants).

Clearer focus to help you manage your work and other aspects of your life – family, hobbies, fitness, social and spiritual.

Clothes that fit better (you can ditch the frumpy and bring out the more attractive clothes in your closet!).

Advanced strategies to manage stress.

Renewed confidence and sense of purpose.
Become a founding member of High Performance Health
Your coaching is friendly & personal & I lost over 10lbs quite effortlessly

"Our 1-1 coaching together has really worked for me. It's helped me have somebody to bounce things off of and be accountable to. The thing I like most is your demeanour and the way you approach it by being friendly and personal. I don't feel like I'm calling somebody that I've hired, I feel like I'm talking to a friend.
I lost over 10lbs quite effortlessly and it doesn't feel like a diet. I feel like I could absolutely continue the healthy habits I've put in place – it's all stuff that makes sense to do long-term."

– BETH T, VIRGINIA, USA
Click play to hear Beth's audio testimonial:
I believe that you are one of the most heart-centred coaches out there. You have been phenomenal & my Psoriasis has gone.

"When I started coaching with Laura I had psoriasis on my feet which was very itchy and painful. During our eight weeks of coaching together that condition cleared up by 95% and now the only time I notice I get a little flare up is when I'm stressed or just not paying attention to stress levels. So it has been a phenomenal program for me, it has worked extremely well.
The menus were really beneficial. I always struggled with finding foods that tasted really good that are more plant-based and alkaline. The fact that I now have delicious meals that I can eat and make for the family and modify a little bit if necessary is huge for me, a real benefit.
In terms of accountability, being held accountable is really important because you can't lie your way through it! So having that support structure is everything. If I'd have just done this as a video course without the weekly 1-1 sessions, I would not have been successful.
Laura, I believe that you are one of the most heart-centred coaches out there. You truly care about your clients, really want the best for them and are all-in working with your clients and any information you have, you willingly share that. It's great information that you share – educated, well-researched. I would highly recommend you to anybody that I know who needs a health coach, you have been phenomenal."
– NADA HOGAN, ACUPUNCTURIST & COACH, NEW YORK, USA
Click play to hear Nada's audio testimonial:
Simple to follow & I've seen some amazing benefits with reduction of my ulcerative Colitis


"Having been diagnosed with ulcerative Colitis, I started coaching with Laura and she was able to help me really, really well. I would highly recommend Laura's coaching mainly because it's a good balance of accountability on a regular basis where we'd agree some actions and at the end of the week you know you're going to get a call from Laura, you really want to get those good results in the bag and to be able to say that you've really seen some good benefits, which I have. For me that was a really good way of motivating myself to stay on the right track. Her coaching is simple to follow and it works very well and I have seen some amazing benefits with my health.
Laura, thank you for your help and diligence with helping me get back on track. Again, I would highly recommend her 1-1 coaching, it's great value for money, it's really simple, Laura's very passionate about what she does and this has enabled me to take my diet much more seriously than I used to."
– THOMAS DUNNE, FOOTBALL COACH, IRELAND
Here's what you'll receive as a founding Gold Member:
Become a founding member of High Performance Health For Just $1497
What others say about working with Laura:
You don't have to go vegan but the mouth-watering plant-based meals & recipe books will tantalise your taste buds…
You have one, precious life – to live it to the fullest you need #highperformancehealth
FAQs
Are results guaranteed?
Laura Rimmer
2017-08-26T08:43:24+00:00
I am an experienced and results-driven health coach and Nutritionist with over 15 years of multi-layered analytical expertise. So can I help you? Yes. However, this is not intended to replace a one-on-one relationship with a qualified medical doctor or health care professional and is not intended as medical advice. It is intended to supplement any advice you are currently being given and to provide you with natural health coaching – as a sharing of knowledge and information from my in-depth research and experience.
You are encouraged to make your own health care decisions based upon your research and in partnership with a qualified health care professional.
As you can imagine, results aren't something that I can fully guarantee. Why? Because every single one of us is different. That said, my clients have had amazing results implementing everything I teach in my programs and coaching – as you can see from my testimonials – and I truly believe this is possible for you, too, if you're committed to doing the same. I firmly stand behind everything I will share with you in this program because I know that this has worked for me and for many of my clients. I'll give you the recipe, but you've got to bake the (healthy) cake!
What if I can't afford it?
Laura Rimmer
2017-08-01T17:40:05+00:00
I've never let money hold me back in my own life, I'm a firm believer in resourcefulness rather than resources. Therefore, I never let my clients make money excuses either. If you've read this far, you know you need help! You've found me for a reason, and my program is resonating with you for a reason. I invite you to schedule your free consultation call and I can walk you through multiple ways that you can find the money to invest in coaching. You are resourceful!